KontrolFreek™ Compatibility
While the KontrolFreek™ thumbstick toppers are not sold by Battle Beaver, we know many of our customers use these products to further elevate their performance. Below is a comprehensive chart of all of the thumbstick styles we offer and their compatibility with the different KontrolFreek™ thumbstick top products.
Compatibility Chart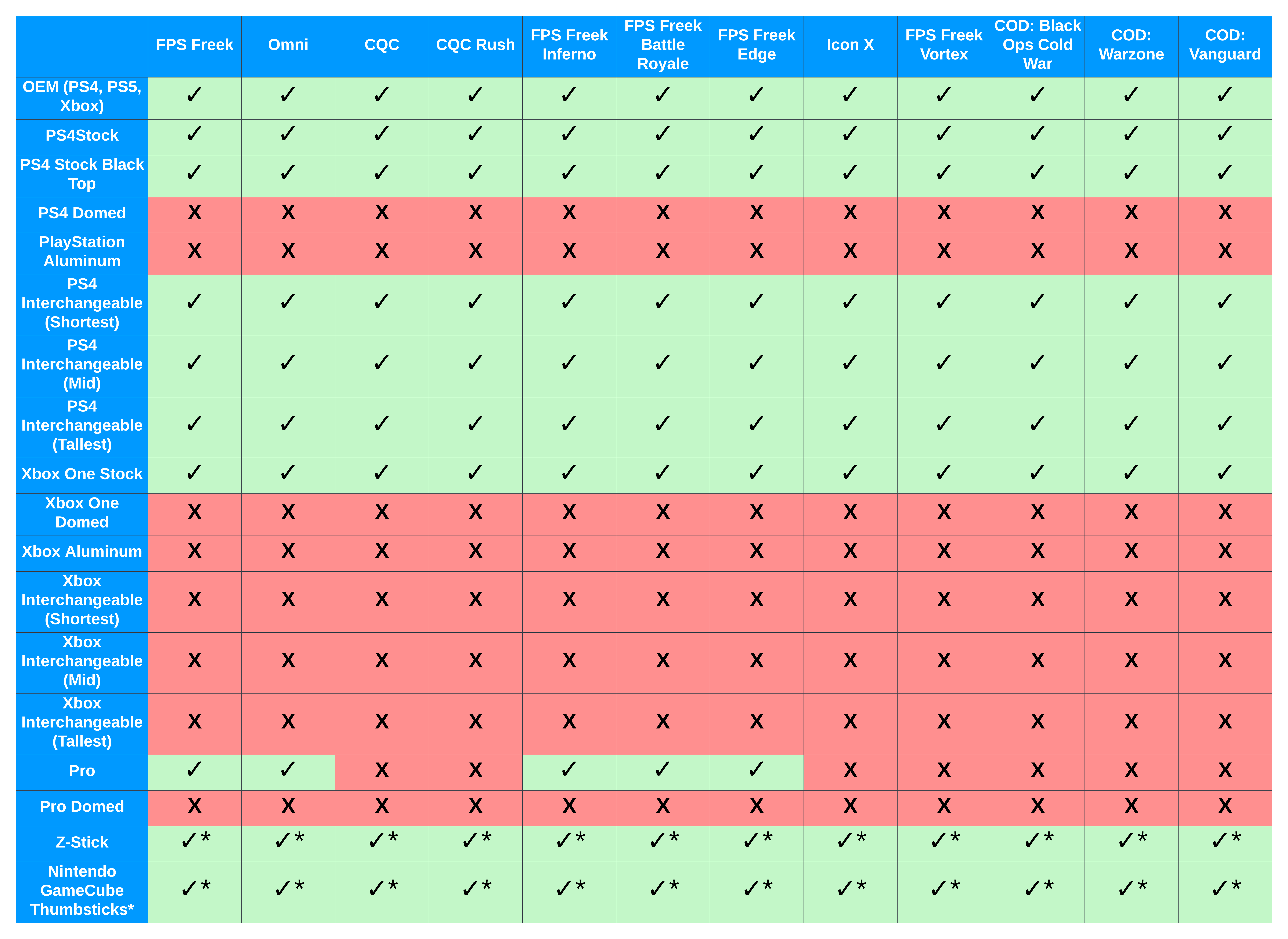 *While it is possible to use KontrolFreek™ on Z-Sticks, it is not recommended. Should you decide to use them anyway, it is recommended you use the PS4 version of the KontrolFreek™. The fit will be tight, so take care not to press too hard as it may damage the thumbstick mechanism and will likely leave some grooves in the thumbpad.
*For Nintendo GameCube controllers, you will want to use the Xbox version of the thumbsticks.
Update 5/31/23
Identifying newer and older KontrolFreek™ toppers:
Old KontrolFreeks™

Will have 3 prongs to grip and a concave center, as seen in the image below.

New KontrolFreeks™

Will have 4 prongs and a convex cylinder in the center, as seen below.
New model KFs will have an "X" or "P" on one of the prongs to denote whether they are "Xbox" or "PlayStation"
Current generation Xbox KFs fit Pro Sticks better than the older generation.

PlayStation KFs will not fit on Pro Sticks.
Both old and new KFs will fit on Z-Sticks, though we still do not advise using them as they can damage the thumbpad on the stick.
KontrolFreek™ Listed Compatibility
You can use the link below to see what KontrolFreek™ recommends for each controller model.
https://www.kontrolfreek.com/pages/compatibility-guide